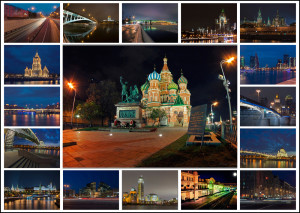 Day 1
Duration: 10 a.m. – 6 p.m.
1. The Kremlin guided tour includes the visit to the main cathedrals (Assumption, Archangel Michael), and a walk through all the streets and squares of the fortress (Tsar Cannon, Tsar Bell).
2. The Armory – this museum is the treasury of the Russian tsars, emperors and Patriarchs. One of the three greatest treasuries in the world. 
Red Square

The main street of Moscow, Tverskaya

The Bolshoi Theater

The KGB building

St. Barbara str

The Moskvoretsky bridge

St. Sophia embankment (view of the Kremlin!)

The Cathedral of Christ the Savior (visit, if open)

New Maiden convent (outside)

The panorama of the city from Moscow State University

The "Luzhniki" stadium of the 2018 World Cup.
Day 2
Duration: 10 a.m. – 6 p.m.
A walk through the streets of the center
St. Basil's Cathedral (inside)

Red Square (GUM department store, Cathedral of Our Lady of Kazan inside)

Lenin Mausoleum (Open 10 a.m. – 1 p.m., Mondays and Fridays always closed)

We visited the GUM department store

A walk along the central street of Moscow, Tverskaya

We will see the buildings of 20 thousand tons that were moved in Soviet times

We will visit St. Peter's Monastery and see its churches

A visit to the first Moscow supermarket Eliseevskiy, the most elegant historical delicacy store in Moscow.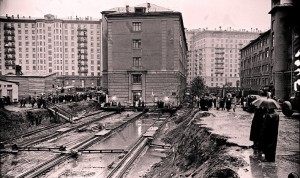 The visit of the underground palaces of the Moscow metro includes 8 most beautiful subway stations and the interesting explanation about the history of the creation of these.
Day 3
Duration: 10 a.m. – 6 p.m.
Sergiev Posad is a town 70 km away from Moscow and it is a great orthodox pilgrimage center, the real Orthodox Vatican. In this town you will visit the monastery that bears the title of Lavra (there are only two Lavras in Russia). About 300 monks live in the territory of the monastery, and there is also the spiritual Seminary with about 1000 students.


Day 4
Duration: 10 a.m. – 6 p.m.
2. Tsaritsino – The estate and palace of Catherine the Great.
 
Prices (4 days with all the tickets included)
no additional payments, all the museum tickets, metro included, car for the panoramic tour included.
| Number of participants | Total, $ | Total, RUB |
| --- | --- | --- |
| 1 adult | 1315 | 102570 |
| 2 adults | 1450 | 113100 |
| 3 adults | 1580 | 123240 |
| 4 adults | 1720 | 134160 |
| 5 adults | 1850 | 144300 |
| 6 adults | 1950 | 152100 |
| more | | contact us |
Note: 1 $ equals 78 rubles