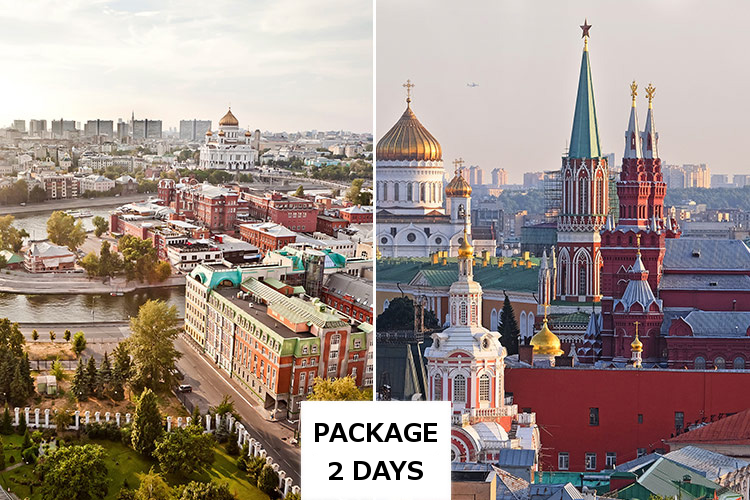 Walking tour by old Moscow streets

The Tretyakov Gallery
Day 1
From 10 a.m. to 6 p.m.
The Assumption cathedral (visit)
Archangel Michael cathedral (visit)
The Annunciation cathedral (visit)
The Secret Garden (visit)
The Big Kremlin Palace (outside)
The main street of Moscow, Tverskaya
The Bolshoi theatre (outside)
The cathedral of Christ the Savior (inside, if open)
The New Maiden (Novodivichy) Convent (outside)
The observation platform of Moscow State University
"Luzhniki" football stadium of the World up in 2018.
3. Moscow metro tour includes: 

8 

most beautiful stations.
Day 2
From 10 a.m. to 6 p.m.
Walking tour by old Moscow streets
St. Basil's cathedral (inside)
Mausoleum of Lenin (inside, if open – 10 a.m.-1 p.m., closed on Monday and Friday)
The church of Our Lady of Kazan (inside)
GUM department store (inside)
You will see some buildings that were moved in the Soviet time.
Stoleshnikov Lane, the most expensive in Moscow that can be compared with Champs Elysees in Paris
St. Peter's Monastery (inside) with its ancient churches
A visit to the first Moscow supermarket Eliseevskiy, the most elegant historical delicacy store in Moscow.
The Tretyakov Gallery

The biggest collection of  Russian art from the 11th to the early 20th century.
The museum is named after its owner, merchant Pavel Tretyakov, the founder of the collection.
This package tour should be prepaid. We accept Visa, MasterCard Payment. PayPal secure payment.
Rates (car for city-tour, all admissions included, no additional fees)
| Number of participants | Total, $ | Total, RUB |
| --- | --- | --- |
| 1 adult | 750 | 58500 |
| 2 adults | 800 | 62400 |
| 3 adults | 900 | 70200 |
| 4 adults | 1000 | 78000 |
| 5 adults | 1100 | 85800 |
| 6 adults | 1200 | 93600 |
| more | | contact us |
Note: 1 $ equals 78 rubles