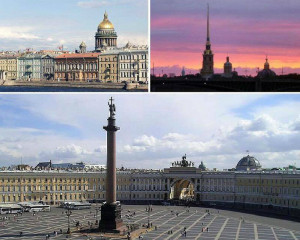 Panoramic tour

The Peter and Paul Fortress

Hermitage
Duration: 10:00-18:00
1. The panoramic tour by car with the visit of the Peter and Paul Fortress (4 hours).
Nevsky Prospect

Kazan Cathedral

St. Isaac's Cathedral (the biggest cathedral in St. Petersburg)

The Church of the Resurrection (the Church of the Savior on Spilled Blood)

The Admiralty

The Winter Palace Hermitage (the legendary art museum)

Palace Square

The Bronze Horseman (the monument to Peter the Great)

The Peter and Paul Fortress (the necropolis of the Russian tsars and the ex-prison)

A walk along the Neva river
2. 
Hermitage 
(3 horas).
This museum doesn't need any advertising. Frankly speaking this is one of the most legendary art museums of the world. Here is where you can find masterpieces of such widely known artists as Perugino, Botticelli, Bronzino, Giorgione. The hall 214 is obviously the most prestigious of Hermitage, possessing two canvases of Leonardo: Madonna Benois, also called Madonna with a flower, bought by Hermitage in 1914 and Madonna Litta, one of the main masterpieces of the artist, created in 1490 and bought in Milán for the princes Litta. The hall 221 is completely dedicated to Tiziano. There is where you can see Dánae, there is a copy in Nápoles, Viena and Madrid. The hall 222 is completely dedicated to Veronese. The hall 229 preserves two main masterpieces of Raphael: Madonna Conestabile and the Holy Family. Caravaggio, Tintotetto, Canaletto, Velázquez, Murillo, Goya and many other names. Just imagine you stay in the room with all the masterpieces around you. What a stunning impression! It will leave you breathless. If you are amateur of arts your fillings will be stronger. You will feel yourself happier after this tour. Just imagine Leonardo was painting his Madonna in 1490 in Italy, at the same time Christopher Columbus was planning his trip to India, Latin America hadn't been discovered yet. At the same time Kremlin walls were still under construction… and five centuries later you are able to enter the hall and see the original work of Leonardo!
Our professional licensed guide will help you to find all main masterpieces of Hermitage because it's not easy.
Precios
| Number of participants | Total, $ | Total, RUB |
| --- | --- | --- |
| 1 adult | 550 | 42900 |
| 2 adults | 570 | 44460 |
| 3 adults | 600 | 46800 |
| 4 adults | 650 | 50700 |
| 5 adults | 700 | 54600 |
| 6 adults | 750 | 58500 |
| more | | contact us |
Note: 1 $ equals 78 rubles