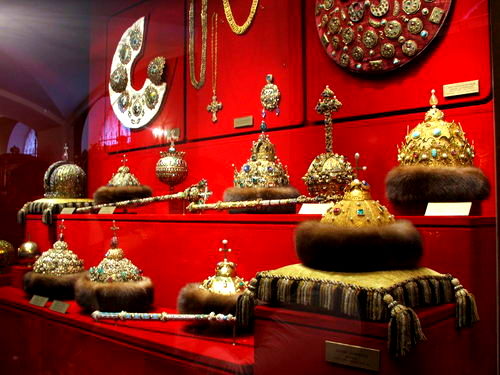 This museum located in the Moscow Kremlin is a treasury of Russian Tsars and Patriarchs (church leaders) though weapons are kept there too but this armor was never used in battles because of being diplomatic gifts for Russian Tsars.

Faberzhé Easter Eggs, Carriages for Russian Empresses, thrones, coronation vestments, items made from a unique piece of gold are exhibited there and you will be able to know the history of these masterpieces from our professional licensed guide.
RATES
| | |
| --- | --- |
| Number of participants |  Total (without transport) |
| 1 adult | 105 USD |
| 2 adults | 145 USD |
| 3 adults | 195 USD |
| 4 adults | 215 USD |
| 5 adults | 235 USD |
| 6 adults | 255 USD |
| more | |
Notes about this tour
This tour should be prepaid
FOUR

 days before the visit. If you want to cancel this tour you will get back only half a sum.
You can pay by credit card, secured PAYPAL payment, we accept Visa and MasterCard.You can᾿t pay in cash for this tour.
Tickets to the Armory are included in tour price. No additional fees! The guide will pick you up at the hotel and will drop you off to the hotel after the tour if needed.
If you have chosen a tour to the Kremlin fortress with a car/minivan, while booking the tour to the Armoury, select an option "without transport" because car rental is four hours and this is enough for both tours if the hotel where you stay is located in the Moscow center. If not,
contact us

and we will discuss the best way for you to come to the Armoury.
 If you decide to go by metro, metro tickets will be free for you.