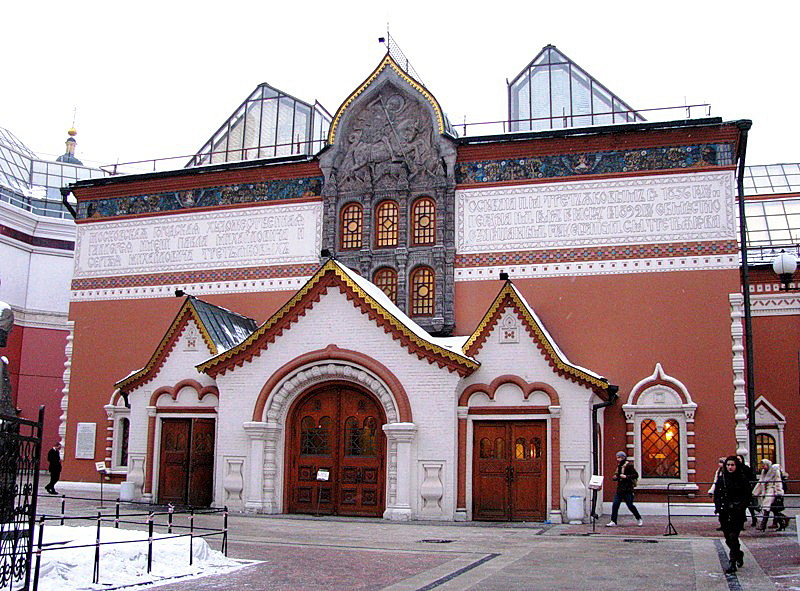 This museum is worth visiting if you are amateur of painting.

You will get in acquaintance with Russian art and Russian artists.

In addition, our licensed and professional guide will show you the evolution in Russian painting from the XIth to XXth century.

The museum bears the name of patron of Arts Pavel Tretiakov who odered a special design for his gallery to the Russian painter Vasnetsov who made illustrations for Russian fairy tails.

There are some examples of old icons, oil-paintings of academists, realists and simbolists exibited in the museus. You will see portraits of Russian rulers and noblemen, traditional landscapes, peasantry, historical paintings etc.
RATES 
Number of participants

 Total (without transport)

Total (transport included)

1 adult

90 USD

with a car 175 USD

2 adults

120 USD

with a car 205 USD

3 adults

135 USD

with a car 220 USD

4 adults

150 USD

with a minivan 235 USD

5 adults

165 USD

with a minivan 250 USD

6 adults

180 USD

with a minivan 265 USD

more
Notes about this tour
Payment method: we accept credit cards: Visa, MasterCard and American Express. PayPal secured payment. In some cases you can pay directly to your guide before the tour in currency you prefer (RUB, Euros, USD).
ATTENTION: your booking for tomorrow morning should be placed before 10 PM otherwise it will be canceled.
Tickets are included in tour price. No additional fees!
If needed you can rent a car for this tour otherwise you will go by metro with your guide. Metro tickets will be free for you. Our meeting point is the reception desk at the hotel.
BOOK NOW