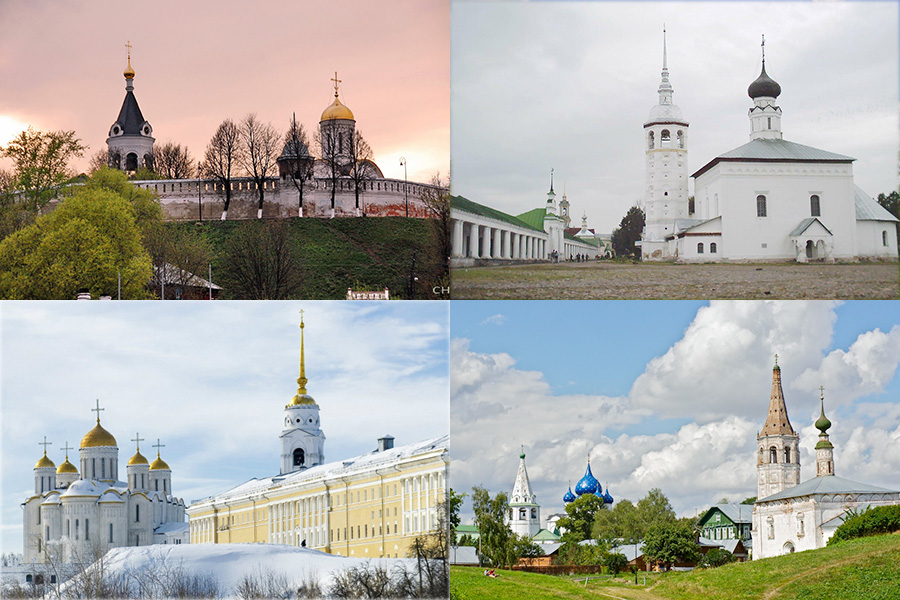 The "Golden Ring" is a tourist itinerary since 1971. It is the most famous brand in Russia except the traditional visits to two capitals Moscow and St. Petersburg.

Initially it was a 20 days trip with five big stops, then the trip was enlarged to a month but few people could travel so long, then visits on weekends were offered to see two or three cities from this route. These short visits became popular and today we offer some one-three days tours for you. It will be an interesting trip, educative and memorable.

There are 12 cities that form "the Golden Ring": Pereslavl, Rostov the Great Uglich, Yaroslavl, Kostroma, Ples, Suzdal, Vladimir, Yuriev-Polskiy, Alexandrov, Sergei Posad and Tutaev. This itinerary of thousand kilometers passes through the places where industrialization didn't come. The ancient capitals of feudal principalities live a rustic life until today. Here you can see the "izbas" (traditional wooden houses) with vegetable garden around and majestic cathedrals, ancient monasteries and thrilling Kremlins. Picturesque landscapes with an absence of the features of modern life fascinate foreigners.
Towns we offer to visit from The "Golden Ring"
1 day tours:
Vladimir and Suzdal
(departure 8:00 a.m. arrival 10:00p.m.)
Sergei Posad
(departure 10:00 a.m.- arrival 05:00 p.m.)
2 days tours:
Sergiev Posad-Vladimir-Suzdal
(departure 8:00 a.m.- arrival 22:00 p.m., check in at Suzdal (4 star hotel)
Vladimir-Suzdal
(departure 8:00 a.m.- arrival 22:00, check in at Suzdal (4 star hotel)
3 days tours:
Sergiev Posad-Yaroslavl-Suzdal-Vladimir
(departure 8:00 a.m.- arrival 22:00p.m., check in for 2 nights at Yaroslavl (4 star hotel)
Sergei Posad-Rostov-Yaroslavl-Suzdal-Vladimir (only in summer)
(departure 8:00 a.m.- arrival 22:00, check in Yaroslavl for 2 nights (4 star hotel)