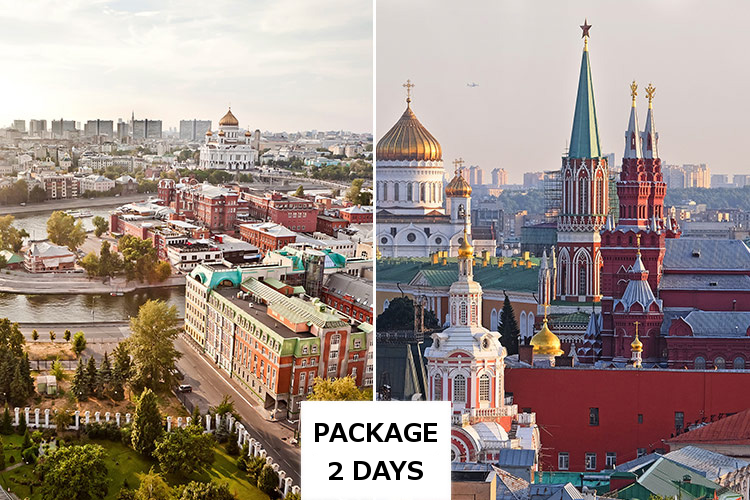 Walking tour by old Moscow streets

Tretiakov Gallery
1st day
From 10 a.m. to 18 p.m.
The Assumption cathedral (visit)

The St. Michael Archangel cathedral (visit)

The Annunciation cathedral (visit)

The Secret Garden (visit)

The Senate (outside)

The Big Kremlin Palace (outside)
The main street of Moscow, Tverskaya

Bolshoi theatre (outside)

Former KGB building

St. Barbara's street

Red Square

Moskvoretskiy bridge

St. Sofía's embankment

Big Stone bridge

The cathedral of Christ the Savior (visit)

Prechistenka Street

El New Maidens Convent (outside)

The observation platform of Moscow State University

"Luzhniki" football stadium of the World up in 2018.
3. Moscow metro tour includes: 

8 

most beautiful stations.
2d day
From 10 a.m. to 18 p.m.
Walking tour by old Moscow streets
The St. Basil's cathedral (visit)

Red Square

Mausoleum of Lenin (visit, closed on Monday and Friday)

Moskvoretskiy Bridge and the observation platform

The church of Our Holy Lady of Kazan (visit)
GUM department store (visit)

Manezh Square
You will see some buildings that were moved in soviet time, one of them was relocated twice
Stoleshnikov Lane, the most expensive in Moscow that can be compared with Champs Elysees in Paris

St. Peter's Monastery (visit), St. Sergious Church (visit), St. Peter's church (visit)
Eliseevskiy foodshop (visit)
Tretiakov Gallery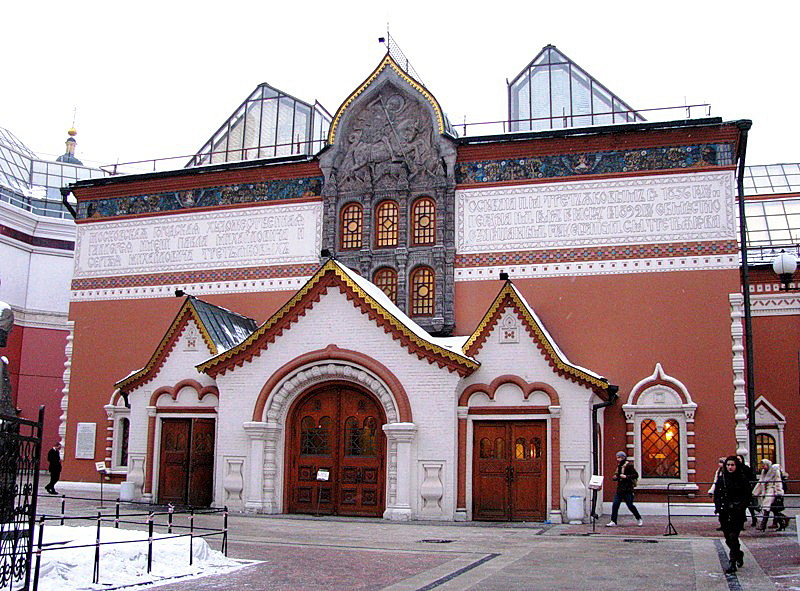 You will get in acquaintance with Russian art and Russian artists.

In addition, our licensed and professional guide will show you the evolution in Russian painting from the XIth to XXth century.

The museum bears the name of patron of Arts Pavel Tretiakov who odered a special design for his gallery to the Russian painter Vasnetsov who made illustrations for Russian fairy tails.

There are some examples of old icons, oil-paintings of academists, realists and simbolists exibited in the museus. You will see portraits of Russian rulers and noblemen, traditional landscapes, peasantry, historical paintings etc.
This package tour should be prepaid. We accept Visa, MasterCard Payment. PayPal secure payment.
Rates (car for city-tour, all admissions included, no additional fees)
| | |
| --- | --- |
| Number of participants | Total |
| 1 adult | 470$ |
| 2 adults | 550$ |
| 3 adults | 620$ |
| 4 adults | 680$ |
| 5 adults | 740$ |
| 6 adults | 790$ |
| more | |
Rates (From the 1 June to 31th September):
| | |
| --- | --- |
| Number of participants | Total (2 days) |
| 1 adult | 550 USD |
| 2 adults | 600 USD |
| 3 adults | 650 USD |
| 4 adults | 700 USD |
| 5 adults | 750 USD |
| 6 adults | 800 USD |
| more | |
WORLD CUP (10th June – 20th July 2018):
| | |
| --- | --- |
| Number of participants | Total (2 days) |
| 1 adult | 770 USD |
| 2 adults | 840 USD |
| 3 adults | 910 USD |
| 4 adults | 980 USD |
| 5 adults | 1050 USD |
| 6 adults | 1120 USD |
| more | |
BOOK NOW